Atlantic Airlines, Inc. is Certificated as an Air Carrier by the United States Department of Transportation Federal Aviation Administration under Federal Aviation Regulations Part 135. Atlantic Airlines, Inc. is authorized to transport by air, Passengers, Air Cargo, US Mail and hazardous materials. A copy of our Air Carrier Certificate can be found by clicking the link below. Should you have any additional questions, please contact our General Office listed on our Contact Us link.


Atlantic Airlines, Inc. is a Corporation headquartered in the State of Florida, and Atlantic Airlines® is a Registered Trademark with the United States Patent and Trademark Office located in Washington, D.C.

Passenger and Air Cargo Services are headquartered at the Lakeland Linder Regional Airport, located in Lakeland, Florida. All passengers and Air Cargo for transportation are boarded at the Main Terminal.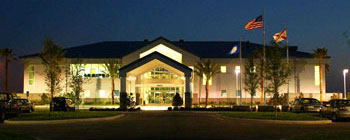 Atlantic Airlines flight and maintenance operations are located at the Atlantic Airlines Operations Hangar at the Lakeland Linder Regional Airport with its location at 3905 Aero Place, Hangar 19, Lakeland, Florida 33811. All cargo and passenger reservations, flight dispatch, flight following, flight crew training and aircraft maintenance will be conducted at the Operations Hangar.

Atlantic Airlines, "America's Hometown Airline" is now offering air service to more than 86 cities in Florida. The new air service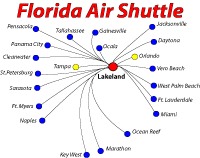 known as the "Florida Air Shuttle" is specializing in providing air transportation to and from most Major Airports in Florida, and flying to those hard to get to Florida cities that have limited or no air service at all, utilizing our Cessna 172 aircraft as shown on the top of this web page.

With the Cessna 172 single engine aircraft, we are able to serve the smaller communities where it is impossible to land large commercial aircraft, due to the fact that the airport runway is just too small for that type of aircraft. The Cessna 172 was designed & manufactured to fly in and out of these smaller airports with ease.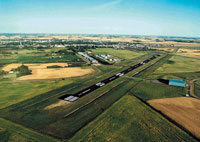 Many passengers would prefer to fly out of the smaller community airports that is more convenient to them, but the problem has always been, there is no scheduled air service of any kind from these airports. Atlantic Airlines visions these departing airline passengers of these smaller communities to come to the Atlantic Airlines Ticket Counter at their local airport, pick up their tickets and boarding passes for all airlines with a connection on Atlantic, park their cars for free,
check their bags for their entire trip at the ticket counter, eat in the local airport restaurant, go through pre-security screening, and board an Atlantic Airlines flight to any other city that Atlantic serves, and be able to make a connection, if required, to any of the major carriers. In addition, arriving passengers to these same smaller community airports will be able to deplane and have a short walk to the terminal, a no hassle experience in retrieving their bags, and a very short walk to their cars ,or be able to easily pick up a car rental, and purchase tickets for nearby attractions.


Since September 11, 2001 our airline industry has been going through many changes. Most of us would agree that the changes are for the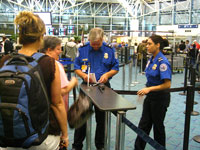 good of the traveling public, but with these changes come some inconvencies, such as delays during check-in, and giving up a little of our privacy. Atlantic Airlines will do everything in our power to minimize these inconvencies. We feel flying out of these smaller airports will be one way to reduce the delays, by just getting away from where all of the congestion is. We feel that once you fly on Atlantic Airlines, you will agree that this is a much better way to fly.

Sincerely,



Atlantic Airlines, Inc.
Mark A. Blanton
President & Chief Executive Officer